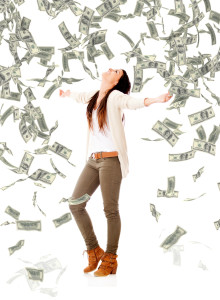 If you're like a lot of college students, you probably have a lot of places you'd like to go over your summer or winter vacation.
The problem? The last two semesters of college life have tapped out a lot of your savings.
Hey, I've been there – and I know how rising textbook prices, increasing tuition rates, and other unexpected expenses can put a big dent in your vacation fund.
Fortunately, there's an easy strategy I've personally used to fund my vacations – and as luck would have it, it's something I cover in great detail on this blog!
It's called selling books online fast – using Bookscouter.
Using Bookscouter to Turn Your Textbooks Into Cash

If you've read How Sell Books Fast Helps You Make Extra Money, you already know the basics of what I teach on this blog – basically I reveal how to find low-priced books in thrift stores, library bookshops, and garage sales and discover which of these books can be sold for a profit online via a free website called Bookscouter that shows you the best places to sell books online.
You can then sell these books online quickly to buyback companies that will send you a check or PayPal payment for your books – often in as little as two weeks.
This is a fast, easy method that can quickly generate a steady stream of income for anyone – working mothers, retirees, self-employed entrepreneurs – but is particularly effective for college students who need to raise money quickly.
Here's why: Some of the most profitable books to sell online are college textbooks. These are the books professional online booksellers (like me) always look for when we search through thrift stores and garage sales for books to resell online for a profit.
An in-demand textbook can easily be sold for well over $100 online – more if you're talking about a textbook in a specialized field like medicine or law. I've personally sold textbooks that gave me a net profit of over $300, and I know there are much more profitable textbooks out there.
That's why college students are in a particularly good spot at the end of their fall or spring semester – you already have a stack of textbooks that can potentially sell for profitable prices and don't have to go out looking for them like online booksellers.
The problem is that most textbooks depreciate very quickly. New editions come out, classes stop including books on their reading lists, and your college bookstore won't pay you even half of what you paid for your textbook in the first place.
After a couple years – sometimes even a few months – some of the textbooks you may have spent hundreds of dollars on will drop dramatically in value as college students flood online markets like Amazon with their textbooks, offering increasingly lower prices in an attempt to get rid of their books.
That's why it's so great that free online resources like Bookscouter exist today. Because Bookscouter offers cash bids from dozens of different buyback companies, college students now have multiple places to sell their textbooks for cash before they depreciate.
Moreover, since these buyback companies are located in states all over the U.S., there's an excellent chance that a textbook no one wants in your city is still in demand elsewhere – and can be sold for a lot more extra cash than what your college bookstore will offer.
Plus, the buyback companies on Bookscouter will pay you cash for your books immediately (often in two weeks or less) – there's no need to wait for someone to buy your book on Amazon. Most buyback companies will even pay for shipping costs, allowing you to keep more money in your pocket.
Selling Books Using Bookscouter
Selling books online using Bookscouter is simple – all you need to do is enter the ISBN (the 10 or 13 digit number code located usually above the textbook's barcode or on the publication information page) in the search bar.
Bookscouter will then bring up a list of buyback companies, along with the amount of money they will pay for your book. You can then visit the website of the buyback company you want to sell to and sell your books to them directly.
If you'd like to learn how to do a more detailed price comparison on Bookscouter (and potentially make even more extra cash) read my article How to Find the Best Books to Sell on Bookscouter with a Free Bookscouter Account.
Please note that you won't be selling your books to Bookscouter but to the buyback companies you find on its website. As such, it's a good idea to keep the following two tips in mind:
Tip 1: Make Sure Your Textbooks Are in Good Shape
I cover this subject in depth in my article Is the Book Condition of Your Textbook Good Enough to Make Extra Money?
To summarize – every buyback company has its own guidelines for the books it will or will not accept, and you should make sure to review these guidelines before you sell to a buyback company.
Some buyback companies – like Textbooks.com – will pay for a book if it has some minor highlighting, underlining, and/or notes in the margins. Textbooks.com will even purchase ex-library books as long as they are in good shape.
Other buyback companies – like Powells or Sell Back Your Book – want books with no markings, which may limit the number of books you can send to them.
As a rule, buyback companies will never purchase books with water damage, broken bindings, or missing supplementary materials (CDs, DVDs, computer codes etc.) so if your textbooks have these flaws, you won't be paid.
(Incidentally, if you know you'll be selling your textbooks via Bookscouter at the end of a semester, it's a good idea to take good care of them – don't eat or drink when you're reading, keep any included CDs or DVDs in their plastic pouches when not in use, and copy any pages you want to take notes on so you don't have to mark the book).
Tip 2: Make Sure Your Sell Your Textbooks to a Reputable Buyback Company
In general, most of the buyback companies you'll find on Bookscouter are reputable companies that will pay you for your books – but you do want to do some research.
Bookscouter offers a rating system where past sellers can share their experiences with individual buyback companies and even grade these companies on a five-star scale. Feel free to use their system to decide which companies you'd like to sell to.
To throw my two cents in, I've had excellent experiences with the following buyback companies – Textbooks.com, Sell Back Your Books, Cash4Books, and Valore (Valore, in particular, offers very high prices for textbooks).
I offer more in-depth reviews of these buyback companies (and others) at 8 Great Book Buyback Companies to Sell Books To and 2 More Great Book Buyback Companies to Sell Books To, so feel free to read the articles in my blog to find a good buyback company to sell to.
And if you liked this article and would like to learn more tricks for earning extra cash by selling books online, feel free to subscribe and send me an email at SellBooksFastOnline@gmail.com with any questions!