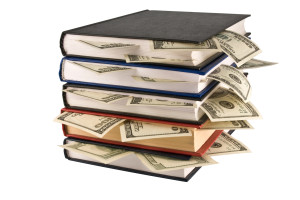 One of my most popular articles on this blog is 8 Great Book Buyback Companies to Sell Books To.
It seems a lot of people really want to do their research before they start selling their books to book buyback companies to make extra money.
That's smart. While there are a lot of book buyback companies you can find by going to Bookscouter, the best book buyback companies accept more books, pay more, and send your cash faster.
So to help you out, here are my reviews of two additional book buyback companies I've personally worked with – and the types of books they will and will not take.
Both of these companies appear on Bookscouter.com – however you'll want to sign up for a free Bookscouter account to make sure they appear in your searches.
Sell Back Books
Located in Lexington, Kentucky, Sell Back Books is an excellent book buyback company that I've sold hundreds of books to over the years.
This company accepts a very wide variety of books that includes textbooks, self help books, university small press books, and even several adult fiction titles.
I've noticed that Sell Back Books is very partial to literary fiction (especially American and English literature), so if you have classic literature novels you'd like to sell, be sure to visit their website and check their bids on your books.
Sell Back Books accepts ex-library books, as well as books with minor highlighting, underlining and handwritten notes in the margins (as long as the markings do not obscure the actual text).
As always, you should never send any book buyback company books with water damage, unpleasant odors, stains, missing pages, broken bindings, or torn covers. Workbooks and study manuals should also be free to any markings to the worksheets in their pages – so be sure to check your books before sending them in.
One nice thing about Sell Back Books is that they only require you to have $5 worth of books to complete a buyback package (pretty easy since they accept so many books).
Unlike most book buyback companies, Sell Back Books does not offer payment via PayPal. Instead, you're given a choice between being paid by a mailed check or direct deposit into your bank account.
If you choose to be paid by direct deposit, you'll need to enter the routing and account number of your checking or savings account in Sell Back Books' website when you place your buyback order and select your payment option.
I've always chosen to be paid by check, and while this is slower (often taking four to five weeks after I send the package in), I've never had a problem with being paid by Sell Back Books.
Finally, Sell Back Books offers a free UPS label you can print out for fast shipping – just make sure to drop your package off at a UPS store.
Chegg
Chegg is a great book buyback company in Antioch, Tennessee that I sell books to almost every week.
You can sell a lot of different books to Chegg, from textbooks to best selling novels to self help books. I've sold multiple business and religious texts to them as well.
Chegg also accepts several literary fiction titles – so college students should make sure to check the prices for their English and American literature novels once the semester ends.
Chegg's book condition requirements aren't as strict as other book buyback companies – you can sell Chegg ex-library books and books with minor highlighting, underlining, and margin notes. However, you should always make sure your book is free of any water damage, has strong binding, and no missing or torn pages.
One unique thing about Chegg is that they don't have a minimum requirement for a book buyback package – so even if they offer only a couple dollars for a single book, you can still send in that one book and get paid.
(That said, I do suggest you try and include at least three to five books in each buyback package – it's easier than packing each book one at a time).
You can choose to be paid in three ways by Chegg – PayPal, a mailed check, or store credit (which you can use to shop in Chegg's online store).
Personally, I suggest getting paid by PayPal. Chegg pays extremely fast this way (most of my payments arrive in less than two weeks).
Chegg also offers a free UPS shipping label with all its buyback orders.
Final Thoughts
Both Sell Back Books and Chegg receive a lot of my business since they accept most of the books I find. Their low minimum buyback order also makes it easier to sell books to them on days when I don't find as many books.
If you'd like to see buyback bids for your books from these companies when you're using Bookscouter.com, be sure to sign up for a free Bookscouter account and make sure to include these companies in your Vendor Selection. (Sell Back Books will not show up in your searches if you do not do this).
Ideally, as you increase your Vendor Selection to include reputable book buyback companies like Sell Back Books and Chegg, you'll broaden the number of buyback companies you can sell books to for cash – increasing your overall profits.
Got even more textbooks you'd like to sell? Check out my latest article, 2 Great Book Buyback Companies to Sell Textbooks To.
Like this article? Please remember to subscribe to my blog if you'd like to receive more tips about book buyback companies you can sell your books to for extra money.
Want me to review other book buyback companies? Send me an email at sellbooksfastonline@gmail.com and let me know!