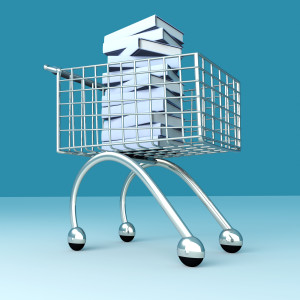 If you've been selling books online using Bookscouter and the methods described in this blog, you've probably realized that the profits you earn from your books depends greatly on how much you bought them for in the first place.
Think about it – even if a thrift store offers a lot of books you can sell to buyback companies for $5 per book, your profit margin will be pretty slim if that store makes you pay $4 for each book. Sure you'll make some money – but is a 20% profit per book worth it when you have to invest $4 up front just to make $1?
On the other hand, let's say you find a bunch of books in a library sale's $0.25 bargain bin that will each sell for $3 to various book buyback companies. Suddenly, you're making $2.75 net profit per book – $11 for every $1 you invest – or an 1100% net profit!
That's a great profit margin – and one that should show you that you should always find ways to buy books as cheaply as possible, so your profit margin is as high as possible.
Here are three tips for how to find and buy discounted books.
Collect Thrift Store Coupons
Many thrift stores offer coupons that can offer you a nice regular discount (usually anywhere from 10%-25%) on the merchandise in their store. You can usually just download these coupons from their website and print them up to show to the cashier when you purchase your books.
Some stores require you to sign up for their email newsletter to receive discount coupons. I highly suggest you do this – not only will the store usually email you coupons, they'll also inform you of any special sales that can give you even bigger discounts.
A few stores offer what I call a "stamp card" discount – you get a card that gets stamped every time you buy something from the store. After so many stamps (usually 10), you get a discount on your next purchase. While it can be tedious to remember to get these cards stamped, if you go to a store on a regular basis, this can also save you some money.
Please keep in mind that certain coupons come with specific restrictions (for instance, you might need to purchase a certain amount of merchandise before receiving a discount and you usually can't combine multiple discounts). Make sure you know the rules of each thrift store coupon and you'll know the best place to buy discounted books.
Shop for Discounted Books on Thrift Store Sale Days
Thrift stores and library bookstores are like any other retail business – they need to keep selling off their older merchandise to make room for new merchandise.
As a result, almost every thrift store will offer special sale days where virtually all of their merchandise (including books) are sold even cheaper than usual. Usually, this means a 50% off sale, although I've seen thrift store sales that discounted their books by as much as 75%!
These are gold mine days for people who like to sell books through Bookscouter – and you should make an effort to always visit stores on these days.
Many of these stores offer these sales on a regular basis (usually twice a month or every other week). Some of the sales can get pretty hectic, so be prepared to brave a lot of crowds, especially if you come early.
Many library bookstores also offer regular sales which you can learn about by signing up for their email lists. You'll enjoy some amazing discounts on these days – many libraries have "brown bag sales" where you can fill an entire bag with anywhere from twenty to thirty books and purchase the entire bag for only $5. Since that means you bought each book for only $0.16 to $0.25 a piece, your profit margin will be fantastic when you sell those books using Bookscouter.
Develop Good Relationships with Your Book Suppliers
Okay, but what happens if you shop at stores that don't have discount coupons or thrift store discount days?
Simple – create your own!
If you've read my article How to Build Good Relationships with Your Book Suppliers, you'll know that it's very possible to form special business arrangements with the thrift stores you shop at. As long as you can show you are a reliable shopper who buys books in bulk on a regular basis, many managers will be open to offering you a special discount since you'll be clearing out their overstock.
Please keep in mind that this is only something you should do if you already sell books online on a regular basis. If selling books for cash is just a hobby for you and you don't intend to shop at these stores regularly, don't try to get a "one-time-only" discount.
That being said, building good relationships with your book suppliers is an important part of selling books online, and if you intend to make selling books for cash a part time business, you should definitely look into getting better prices for your books this way!
I hope this article has given you some ideas for how to make more money selling books online! Remember, you can receive more tips and tricks for how to sell books online for extra money by subscribing to my blog!
If you enjoyed this article, I encourage you to check out Make More Money Selling Books Online with Bonus Codes. You'll learn how buyback companies like Cash 4 Books and Valore offer great bonus coupon codes that will increase the money you can make selling books online.
Do you have a question or suggestion for a future blog article? Email me at sellbooksfastonline@gmail.com.