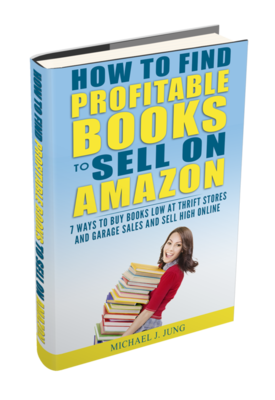 Hey everyone!
I'm pleased to announce that How to Find Profitable Books to Sell on Amazon, the latest book in my Sell Books Fast Online eBook series will be offered for FREE from December 14th through December 18th – and for the DISCOUNTED price of $0.99 from December 19th through December 20th!
I think many of you will be interested in this new eBook – where the previous three books in my Sell Books Fast Online series focused on strategies for selling books you already have on Amazon, How to Find Profitable Books to Sell on Amazon actually shows you how to find used books you can buy cheaply at thrift stores, garage sales, library bookstores, and other book suppliers, and then sell for high profits on Amazon.
By reading this short (60 page), information-packed volume, you'll learn how to:
• Choose the best book scanning equipment for your budget
• Decide at a glance if a used book is worth reselling on Amazon – and how long it might take to sell
• Locate thrift stores, garage sales, estate sales, and other great places to buy books using the online resources I'll provide you with direct links to
• Create book routes that let you visit multiple stores every day
• Search for profitable books faster than your competitors and amass a big supply of valuable books to sell on Amazon
• Befriend store employees, volunteers, and your fellow book scouts so you can gain access to more books and learn of other hidden book suppliers
All of the techniques and strategies I cover in this eBook were learned "in the trenches" by me and will be of great value to anyone just starting to sell books online (especially if you can download it for free!) Even if you happen to be reading this after the promotional period has ended, the book is still a great value for its usual price of $2.99.
By the way, if you do download the book and find it useful, please take some time to leave me a quick review! Let everyone know why you got into online bookselling and what you plan to use your extra money on (Vacations? School expenses? Upgrading your home or car?). I'm always interested in learning how the information I'm sharing helps people – and I know others are too!
About My Sell Books Fast Online eBook series
I started my Sell Books Fast Online eBook series over a year ago with my now-popular, How to Write Descriptions That Sell Used Books on Amazon.
Each book in the series focuses on a different aspect of online bookselling, from how to price your books for profit to how to improve customer relations and get better online reviews.
That way, if you just want to improve your skills in a specific area, you can pick and choose among the many books I offer and focus on the strategies in whatever aspect of online bookselling you're most interested in.
That said, if you'd like to save some money, I highly recommend you pick up a copy of my How to Sell Used Books on Amazon Box Set to get the first three eBooks in my series for the discounted price of $6.99! (Just remember to leave me a review if you like it!)
And if you'd like to know when my next eBook is coming out – and when you can pick up a free or discounted copy – please subscribe to my blog and get all the free tips and articles I offer!
Thanks everyone! Happy Holidays and, as always, feel free to email me with any of your questions and comments!