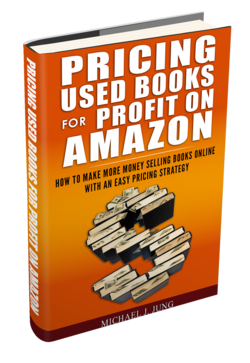 Hey everyone!
I'm pleased to announce the second book in my Sell Books Fast Online eBook series has just been released on Amazon and will be offered for the bargain price of $0.99 until February 2, 2017!
This latest book, Pricing Used Books for Profit on Amazon, focuses on how to create prices for books you list on Amazon.com that will always earn you a good to fantastic profit on your Amazon book sales.
After February 2nd, this book will go back to its regular price of $2.99, so please make sure to buy it early for only $0.99 and save some money!
Pricing Used Books for Profit on Amazon
As many of you who have sold books online via Bookscouter know, while flipping books for profit with buyback companies can offer you a fast, steady cash flow, there is one big disadvantage to making extra money by selling books this way.
Namely, since you can't set your own price for the books you sell to buyback companies, you may often have to settle for a much lower price quote if you sell all your books exclusively to buyback companies.
That's why it makes sense to list some of the more valuable books you find on Amazon for higher prices than buyback companies are offering. It might take longer for some of these books to sell, but your overall profits will be greater since you'll have an additional income stream.
That's where Pricing Used Books for Profit on Amazon comes in. With this short, fast-paced eBook, you'll learn a set of easy pricing strategies that will teach you how to:
• Set a minimum price for your books so you always earn a decent net profit
• Work out high prices that can attract customers and make you a 1000% (or greater) profit
• Keep your books competitively priced by raising your prices
• Use the Amazon Best Sellers Rank to find books that sell fast
• Know when to sell your books on Bookscouter and when to list them on Amazon
With these simple strategies, you'll never sell books for pennies on Amazon or sacrifice profits for sales ever again.
This is the perfect book to learn how to make more money selling books online with less effort. Buy it for the bargain price of $0.99 (and please leave me a review!) today!
About My Sell Books Fast Online eBook Series
After receiving so many emails and questions about how to sell used books on Amazon, I decided to answer these requests by creating my Sell Books Fast Online eBook series.
Each book in the series provides in-depth coverage of a different aspect of selling books on Amazon – from setting competitive prices to earning excellent customer feedback – that other online bookselling guides might gloss over.
That way, if you have questions about a certain part of bookselling (or want to improve your skills in a specific area) you can choose from any of my easy-to-read guides that will help you the most.
In addition to Pricing Used Books for Profit on Amazon, you can now check out:
How to Write Descriptions That Sell Used Books on Amazon
This eBook reveals how you can quickly write short, detailed descriptions of any books you sell on Amazon that will attract customers and help your books sell faster and for higher prices. (You'll even learn techniques for how to make your used books' flaws look attractive to the right customer).
As a bonus, I offer an Appendix full of ready-to-use description templates so you can immediately create eye-catching pieces of copy, even if you aren't a natural writer.
Future Books in the Sell Books Fast Online eBook Series
Right now, I'll be releasing a new eBook every month, on subjects as varied as finding better books to sell online to creating an online filing system that will make shipping your books easier.
If you'd like to know when each new book will be released, feel free to subscribe to this blog to receive notices. You can also go to my Author Page and click on the orange "Follow" button to get updates.
For now though, please check out Pricing Used Books for Profit on Amazon – and please leave me a review if you found it helpful!
Thanks guys! I hope you like my books!