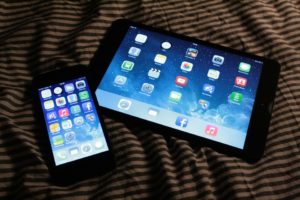 One of the biggest concerns I have when using my tablet or phone to find books to sell online is how good my wireless provider's network coverage is.
While using Bookscouter helps me find a lot of books to sell online and earn extra money, if I shop in places where my wireless carrier's network coverage is spotty or slow, I waste a lot of time waiting for bids from buyback companies to appear on my tablet or phone. That's time I should use finding more books to sell for cash – not waiting to see if a single book is worth buying or not.
This is a problem for online booksellers since we shop for books in many different cities, towns, and buildings to resell online. Just because a wireless provider's network coverage is good in one city doesn't mean it'll be great in another – if you want to make extra money selling books online you need reliable coverage everywhere.
So for the past several months, I've been testing out data plans from multiple wireless providers to compare their network coverage.
I'm happy to report that Verizon Wireless is by far the most reliable and cost effective wireless provider I've encountered so far, and allows me to find hundreds of books with Bookscouter in multiple locations quickly and efficiently.
Here's my wireless carrier comparison of Virgin Mobile, T-Mobile, and Verizon Wireless based on my personal experiences.
Data Plan Cost
When I started testing out data plans from different wireless carriers, I was attracted to no-contract data plans offered by companies like Virgin Mobile and T-Mobile. Since I just wanted a reliable network to find books to sell online via Bookscouter, I went with some basic plans.
Virgin Mobile charged me $38.10 a month and provided me with unlimited data. While I appreciated their data plan it was difficult for me to see all the pricing information on the small screen of my phone. Plus, holding the phone in my hand so long eventually gave me carpal tunnel syndrome (please read How to Make a Hands-Free Cell Phone or Tablet Platform to learn how to prevent that).
T-Mobile offered an attractive $20 monthly 4GB data plan that I could use on my tablet. This looked like a great deal, but their spotty in-building coverage soon forced me to waste most of that data just waiting to look up prices on Bookscouter. After a while, the aggravation wasn't worth the lower price.
I'm currently paying $31.19 a month to Verizon Wireless for a 2GB data plan (Please note that plan rates can change so this actual figure might be different when you read this).
While this might sound like I'm paying more for less, Verizon's faster and more reliable network allows me to spend less time scanning books and looking up prices so I don't need all that data – and can actually perform my work much faster, sometimes cutting an hour from my workday.
Unlike Virgin Mobile and T-Mobile's no-contract plans, Verizon requires you to enter a 2 year contract to use their network. I was a bit apprehensive about such a long-term agreement but I'm now satisfied that their network offers me a good return on my investment.
Verizon now offers another perk for entering into their contract – an Ellipsis 8 Tablet with a SIM card that connects the tablet directly to their network. Previously, I used a T-Mobile Hotspot to connect my tablet to T-Mobile's network – which was a hassle since the hotspot gave me another device I needed to keep charged. Because of this, I recommend getting tablets with SIM card slots if you want to use a mobile network.
Overall, I'm very happy with the cost of Verizon's wireless network and feel it offers a good middle-of-the-road option in terms of reliability and affordability.
Network Coverage
Virgin Mobile's network coverage was decent but its speed was slow in places with low ceilings – which included many of the library bookstores and thrift stores I shopped at. I sometimes had to wait ten or twenty seconds for Bookscouter to look up the price quotes of one book.
T-Mobile's network was extremely spotty. I couldn't get a signal in certain parts of thrift stores and had to move around the store trying to work out where I could access the Internet. This made looking up book prices slower since I had to move my books from one part of the store to another just to look them up on Bookscouter.
Verizon Wireless' network is lightning-fast and can access the Internet anywhere I take my tablet. I visit a total of 25 different thrift stores and library bookstores every week in 5 different cities and I can look up the price of any book on Bookscouter within two seconds in any of these areas. The difference is striking since I know both Virgin Mobile and T-Mobile's networks can't match Verizon's speed in the same locations.
Data and Battery Usage
One nice thing about Virgin Mobile was that it offered me unlimited data so I didn't need to worry about using up my data plan. On the other hand, my cell phone's battery did run low after a few hours, so I had to invest in a portable charger.
T-Mobile's 4GB plan seemed like it could provide me with enough data for the month, but since its spotty network coverage forced me to spend more time looking up prices, I ended up using more data every month. My tablet's battery did last for several hours without issue, but the T-Mobile Hotspot ran out of power constantly.
Because Verizon Wireless' network is much more reliable and faster than Virgin Mobile or T-Mobile's, I can get my work done faster and use up less data and battery life (this month alone, I'll be using less than 1.5 GB of my 2 GB data plan).
That said, there are some important steps you should take when using a mobile network to make sure you don't accidentally consume too much of your data or battery life. I cover these tips in a separate article, 3 Tips for Saving Data and Battery Life on Your Tablet or Phone. Please read this – it'll likely save you money!
Keep in mind also that I only use my tablet to sell books online through Bookscouter, which makes it easier for me to use less than 2 GB a month. If you use your tablet or phone more often, there's a chance you'll need a bigger data plan.
But when it comes to selecting a reliable wireless provider with great network coverage that can help you find more books in less time to sell for extra money there's no contest – go with Verizon Wireless!
Do you have your own opinion about which wireless provider offers the fastest and most reliable network coverage? Email me at sellbooksfastonline@gmail.com.
And remember, you can receive more tips and tricks for how to sell books online for extra money by subscribing to my blog!