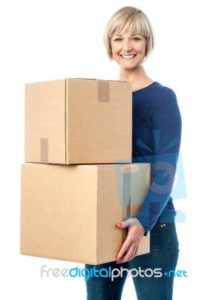 One of the biggest pet peeves buyback companies like Textbooks.com and CKY Books have is when people send books in poorly packed boxes that get damaged in transit, resulting in torn up or even missing books.
The reasons for this damage can vary. Maybe the seller shipped the books in a flimsy box that fell apart on the way. Or maybe the box was too big for the book, causing the book to bounce around inside the whole trip until its binding broke and the pages tore.
Regardless, the end result is the same – buyback companies can't pay for missing or damaged books, meaning you won't get your money.
This can be a costly problem – especially if you're a student who just sent out a textbook you expect to be paid $100 for, only to be informed that your book was damaged in transit and can no longer be accepted.
To keep you from encountering these problems with any of the buyback companies you might send books to through Bookscouter I'm going to take you step-by-step through how you should pack your books and ship them.
Please take the time to read through this article carefully – it could mean the difference between a nice payday and no money at all!
Step 1: Assemble Your Packing Materials
In my previous article, Finding Free Boxes for Shipping the Books You Sell Online, I showed you how to find, select, and store free sturdy cardboard boxes that are ideal for shipping books.
Once you've stored your boxes, you'll want to keep the following items close by:
Strong Packing Tape: Be sure to buy a few rolls of strong packing tape, along with a tape dispenser if you don't already have one. This is something that really makes the difference between a sturdy and flimsy package, so be sure to buy high quality tape. Never use scotch or masking tape.
Newspaper: Get in the habit of storing the newspapers you've already read in a separate box. You can also store junk mail (just remember to tear out any identifying information).
Plastic Bags: Fill up another box with plastic bags you saved from your trips to the grocery or thrift store. Make sure they're all clean, dry, and free of any smells.
Scissors: You'll need these to size up your shipping labels
If you want more high-quality packing material, you can also buy some bubble wrap or packing paper to secure your books.
One type of packing material you should never use is packing peanuts (those plastic or Styrofoam pellets some people use for packing household appliances). They'll constantly shift in transit, resulting in damaged books. Shredded paper is also considered a poor packing material for the same reason – it won't provide enough support.
Step 2: Choose a Box for Your Books
Once you've completed a buyback order and printed your packing slip (which lists all the books you're selling and the prices the company will pay you for them) and your shipping label, it's time to start loading your books.
Select a box for your books and fold up the bottom flaps so you can see how well the books fit inside the box.
The books should fit easily in the box – you shouldn't have to squeeze them in (and possibly damage the edges). Make sure the box isn't too big for all your books. Check out the photo below to see how the books should ideally fit: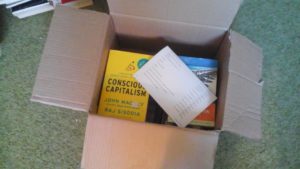 If your box looks too big or too small, switch it out with another until you find a better fit. Once you've selected the box, seal up all the bottom flaps, including those at the sides, with packing tape.
Step 3: Secure Your Books
Take out each stack of books and slip them into a secure plastic bag (be sure to put the packing slip in with the books). Tie the bag and put the books back into the box. This will protect the books from the newspaper you'll use to later pad the box.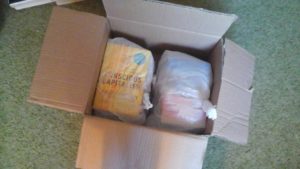 Step 4: Pad the Edges and Top of the Box
Take a few sheets of newspaper and crumple them into some plastic bags to form some packing cushions for your books. Be sure not to over stuff the bags – the cushions should squeeze easily into any gaps in the box to keep the books from shifting.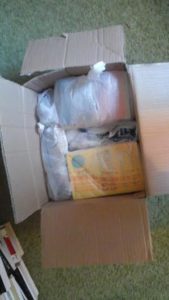 Now stuff one more bag full of newspaper and lay it on top of the books – this will protect the books from being damaged when the box is cut open.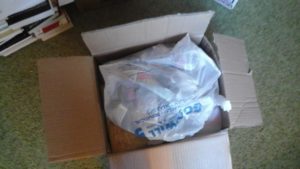 Putting the newspapers in plastic bags will keep the books from being stained by newsprint – however, if you'd like to use more quality packing material, you can use bubble wrap or packing paper.
Step 5: Seal up the Top of the Box
Tape the top of the box with packing tape the same way you sealed up the bottom – be sure to tape up all the sides of the flaps to keep the box from popping open.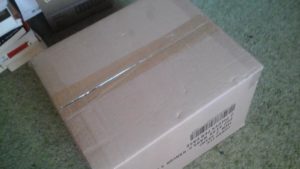 Step 6: Attach Shipping Label
Use the scissors to trim the shipping label to size and attach it onto the box with packing tape. (Be sure not to cover any barcodes with tape).
Take the package to your closest UPS, FedEx, or USPS drop off (depending on the shipping label you used). You're done!
Final Tips
Try to limit the amount of books you put in each buyback order to keep your packages from weighing too much – 10-20 books per order should be okay.
Once you're done packing your books, pick up the box and shake it a few times – if the books don't rattle inside, they've been properly cushioned.
If you'd like to make your boxes look "cleaner" you can always turn them inside out – however I've never had any problems with sending my packages with markings on the boxes.
That said, do not turn the USPS Priority or Express mailers found at the United States Post Office inside out and use them for boxes. The free shipping labels provided by most textbook buyback companies will not cover the cost of priority or express shipping and the mailer must pay the extra cost.
I hope this article informed you on how to pack your books. If you'd like to receive more tips and tricks for how to sell books online for extra money, please subscribe to my blog!
Do you have a question or suggestion for a future blog article? Email me at sellbooksfastonline@gmail.com.