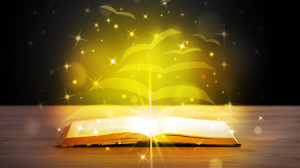 If you're like most people, you dream about stumbling onto a copy of the Gutenberg Bible that will sell for $2.2 million at auction and make you an instant member of the super rich.
Well guess what? That'll probably never happen to you.
Hey, these books are called "rare books" for a reason. And while it is possible that – if you search long enough – you'll find a book you can sell online for $100, you probably won't have that success every day (especially if you're just starting to sell books online).
On the other hand… while you won't find a $100 book every day, you can make $100 on most days selling books online – just by buying a lot of books and selling them all in the same day.
It's very possible. In fact I do it all the time — and with only the aid of a free online resource called Bookscouter.com.
The "secret" is to stop looking for only books that sell for $50 or $100 and open your eyes to all the other potentially valuable books available to you – like gold dust books.
Gold Dust Books
In future posts, I'm going to be talking a lot about gold dust books and how you can find and sell them very quickly to make extra money. For now, however, I'd like to give a basic definition of what gold dust books are.
Gold dust books are books that often sell for low prices online (usually $2 to $10, although a few are more valuable). Unlike books on Amazon or eBay (where you wait for someone to buy your book) gold dust books can be sold immediately to book buyback companies that will offer a price quote for your books and pay you for them via Pay Pal or check.
These book buyback companies can range from a textbook buyback company like Textbooks.com or Valore that specializes in buying educational books to a physical bookstore like Powells.com that gets a lot of its stock from books sent to them by people like you.
Even Amazon.com has a book buyback program that will let you sell books directly to their company — although they pay you in trade credit rather than cash.
It's easy to sell gold dust books. You sign up for a free account at a book buyback company's website, enter the books you want to sell, and receive a price quote for them. The website gives you with a shipping label to send the books and once your books are received, the company pays you.
Benefits of Selling Gold Dust Books
The best part about selling gold dust books is – they're everywhere!
Every day, there are dozens of gold dust books selling for cheap prices at thrift stores and garage sales. They can be religious texts, self-help books, paperback novels, and even children's books.
Many book sellers (or "book scouts") ignore these books since they don't look as good as books that sell for $25 or more.
To me, however, it's totally worth it to load my cart with gold dust books because they're easier to find than high-profit books – and they provide me with a guaranteed sale since the book buyback company is already offering me a price for each book.
Moreover, once I pack five or ten gold dust books in one package, I can earn $20, $30, or even $40 per package – a net profit comparable to those harder-to-find high profit books.
The other great part about selling gold dust books is that you can sell them fast.
Any business needs to turnover its merchandise regularly in order to generate a good cash flow. So while it might be a thrill to have an Amazon book inventory that's worth over $10,000, if none of those books are selling, that online store's ability to generate actual income is limited.
In contrast, I can make extra money very quickly by selling all my gold dust books on the same day I bought them. Even better, I can re-use that same money over and over again to buy more books and earn extra money without having to invest another dime!
Drawbacks of Selling Gold Dust Books
The disadvantage of selling gold dust books is that while it's easier to find gold dust books than high-profit books, there aren't enough of these books for most book scouts to generate a full-time income by only selling gold dust books to book buyback companies.
The good news is that if you look at selling gold dust books as a way to make extra money, you'll be very pleased by what you do earn. It's fairly easy (if you take the time and effort to study this business) to make an extra $1000 a month by selling gold dust books – which can provide you with a nice regular supplemental income.
Final Thoughts
As someone who's sold books to both book buyback companies and on Amazon.com, I can honestly say that anyone who wants to succeed in selling books online should take advantage of both book buyback companies and Amazon.
Each of these companies has its benefits and drawbacks and, while I don't pretend to be the ultimate expert in online bookselling, I have developed a number of techniques and strategies that give me an edge in these markets.
Update: Recently, I published my popular Sell Books Fast Online eBook series which details how to sell books on Amazon faster and for higher prices. If you'd like to make even more money by selling books on Amazon as well as to buyback companies, I encourage you to check it out!
In the meantime, I urge you to subscribe to my blog to make sure you receive all my updates on how you can sell books online quickly to both buyback companies and Amazon.
And then check out my article, How to Sell Gold Dust Books Online for the Best Prices to see exactly how you can start making extra money from gold dust books.