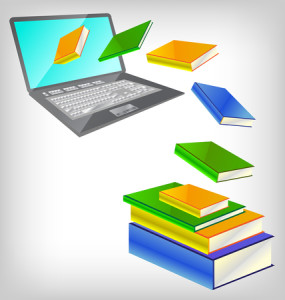 As many of you have probably noticed, I promote Bookscouter a lot in my blog. There's a reason for this – Bookscouter is hands down, the best buyback company comparison website I've ever seen. No other website (that I know about) compares as many buyback company price quotes (up to 57 buyback vendors as of now!) as Bookscouter.
Even better, if you sign up for a free account with Bookscouter, you can choose which buyback company price quotes show up on your searches – and also get real time price quotes from Amazon.com as well. Pretty cool for a free website!
That said, there are other websites and free apps like Bookscouter that also showcase prices from buyback companies, and I highly suggest you familiarize yourself with them and become prepared to use them when you go out looking for books to sell online.
Why? Well, for one thing, while Bookscouter is normally reliable, it does experience an occasional glitch from time to time. Once while I was searching for books to sell online, I was thrilled to see that one (and only one) buyback company was offering over $40 for a book I just scanned. My elation turned to confusion, however, when I saw Bookscouter telling me that the same buyback company was offering $40 for every book I scanned.
A quick check at the actual buyback company's website confirmed it – there was an error in the price check and the company wasn't offering anything for the books I had scanned. I quickly returned the books I scanned to their shelves – but I would have wasted a lot of money if I'd bought them.
On other (rare) occasions, Bookscouter can temporarily shut down due to some maintenance issue. These issues usually resolve themselves in a few hours, but it can be frustrating if you're out bookscouting and can't use the website to compare buyback company prices.
When these problems come up, it's to your advantage to have some backup websites and apps ready to turn to so you can at least find a few books to sell to buyback companies until Bookscouter resolves its issues.
Here are some "back up" websites and apps that I suggest you study up on:
Bookfinder
Bookfinder is an ecommerce search engine that helps people find books they want at good prices. More importantly for you, however, it has a feature on its website that compares buyback price quotes.
Bookfinder doesn't compare anywhere near the number of buyback companies Bookscouter does (as of now it only compares seven – Textbooks.com, TextbookRush, Abe Books, Amazon.com, eCampus.com, Bookbyte, and Valore) but it does allow for some comparison buyback shopping if you're in a pinch.
One cool feature about this website is that you can enter multiple ISBNs from the books you're checking and then have the website show prices for all the books simultaneously (as opposed to looking them up one by one).
Overall, I prefer Bookscouter to Bookfinder – but I'm glad I can turn to Bookfinder if I need to.
Sell Back Your Book App
This is a free app for your Android or iPhone that you can download off of the Sell Back Your Books website.
Sell Back Your Books is one of my favorite buyback companies to sell to. They offer competitive prices and only have a $5 minimum buyback order (meaning they need to offer you a price quote of at least $5 for all of your books before you can finalize your buyback order and send out your books).
The downside to this app is – you guessed it – it only gives you price quotes from Sell Back Your Books and not any other buyback companies.
Nevertheless, Sell Back Your Books does offer good price quotes for a lot of books (I recently made almost $50 just by selling them six books – check them out to see if you can sell any of your books to them!) and you should definitely download their app in case of an emergency.
Cash 4 Books App
This is another free Android and iPhone app offered by another buyback company I sell to on a regular basis – Cash 4 Books. Like Sell Back Your Books, Cash 4 Books has a minimum buyback order of $5, and their buyback prices are usually so high that it's very easy to sell books to them (I frequently sell buyback packages to them in excess of $25).
To top it off, Cash 4 Books frequently emails special bonus codes to people who open a free account with them that increases their already substantial price quotes.
Again, the downside to this app is that it only offers price quotes from Cash 4 Books. Even so this is a good buyback company that will offer good prices for any books you choose to sell to them, so the app is definitely worth downloading. (You can find it on Cash 4 Books main page under "Quick Links" "Mobile Apps with Barcode Scanner").
Buyback Company Websites
If you don't want to download apps and prefer looking up prices online, you can always go directly to a buyback company's website and look up price quotes if the Bookscouter website is down and/or experiencing a glitch.
The only issue with this method is that it's too time consuming to check a bunch of different websites against a single book. You could be scanning for hours and only find a small number of books you can sell online to buyback companies.
To combat this problem, you'll want to limit your search to buyback companies that accept a lot of books and offer competitive price quotes for them.
Again, I suggest you visit the Sell Back Your Books and Cash 4 Books websites when searching in this way.
I would also suggest you visit the Powells Books website and see if you can sell any of your books there. Powells doesn't always offer the highest price quotes – but they do accept a lot more books than most buyback companies, and will pay quickly.
A word of caution – Powells only accepts books in excellent condition (i.e. no highlighting, markings, tears, or ex-library books) so be sure to inspect your books carefully before selling to them.
Final Thoughts
When selling books online – especially when selling them to buyback companies – it's to your advantage to compare price quotes from as many buyers as possible to ensure you're getting a good deal. For this, Bookscouter can help you like no other website.
Nevertheless, when Bookscouter isn't available, you should always have some backup online resources so you don't end up wasting your valuable time at a thrift shop or library sale. Visit the websites and download the apps listed above, and you'll be in a better position to make a profit even when the unexpected happens.
By the way, if you know of any additional websites and/or apps that work similar to Bookscouter, please feel free to comment below. And, as always, please subscribe to my blog for more tips on making extra money by selling books online quickly!