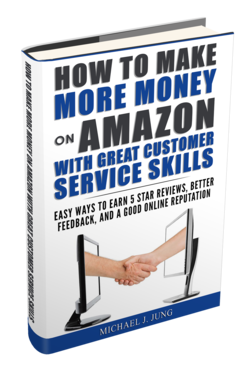 Hey guys!
I'm thrilled to let you know my latest eBook, How to Make More Money on Amazon with Great Customer Service Skills, is on Amazon's Kindle store and will be selling for only $0.99 until Sunday, April 9th!
(After April 9th, the book will be sold for its regular price of $2.99, so be sure to take advantage of this limited time sale!)
This is the third book in my Sell Books Fast Online eBook series, and it covers a subject I know many Amazon sellers want to learn more about – getting a powerful feedback rating that can attract more customers and boost your sales.
How to Make More Money on Amazon with Great Customer Service Skills
If you've read my first two eBooks, How to Write Descriptions that Sell Used Books on Amazon and Pricing Used Books for Profit on Amazon, you know that I teach effective strategies for how to market your books and sell them for a high profit.
When it comes to earning good reviews and feedback from your customers, however, developing a successful strategy can seem a bit daunting.
After all, unlike writing descriptions of your books or setting profitable prices, getting customers to leave good reviews is often something that's out of your hands. This can be frustrating when you realize that many customers can be slow to compliment you when you sell them a great book but are quick to criticize when something goes wrong.
Fortunately there are a number of easy and effective customer service strategies you can implement right now that will not only improve your feedback rating but also reduce the chances that your customers will leave you bad reviews.
These are the same customer service strategies that I've used to earn (and keep!) a 100% positive feedback rating for over six years, so I know from personal experience that these techniques work.
By using the strategies in How to Make More Money on Amazon with Great Customer Service Skills, you'll be able to:
• Use Amazon's Feedback Rating system to raise your seller rating, even if it's currently low
• Offer great customer service that distinguishes you from your competitors and gives your buyers something to rave about
• Ask customers for positive feedback in a way that encourages them to give it
• Deal with customer disputes in a friendly way that can earn you good reviews
• Find ways to profit even when you have to refund your customers
As with all my eBooks, I've included a bonus appendix full of ready-to-use email templates you can modify for a variety of customer service issues, including requesting feedback and managing returns.
And while these customer service strategies were developed from selling used books on Amazon, the basic techniques can be used for selling virtually any product on Amazon since my strategy focuses on making customers feel important and valued – which is a vital skill to have in any business.
So if you'd like to earn a better Amazon seller reputation, be sure to take advantage of this special $0.99 offer! And if you found what I have to share about getting five star reviews useful, be sure to leave me a good review too!
About My Sell Books Fast Online eBook Series
Over the last few months, Sell Books Fast Online has quickly grown from an attempt to answer some of the questions I've received on how to sell books on Amazon into a very popular eBook series.
Each book in the series is designed to provide in-depth coverage of a different aspect of selling books on Amazon – from pricing your books to getting good customer reviews – that other online bookselling guides might gloss over.
And with How to Make More Money on Amazon with Great Customer Service Skills, I've reached a turning point in the series as the first three books were designed to teach you the basic skills required to market and sell used books successfully.
The next three books in the series will cover the skills necessary to build a successful online bookstore – from finding profitable books to organizing a large inventory – that are vital to anyone who's wanted to sell used books as a home based business.
So if you're interested in creating a steady and growing cash flow from selling used books on Amazon, be sure to watch out for my next few releases! Feel free to subscribe to this blog to receive notices or go to my Author Page and click on the orange "Follow" button to get updates.
For now though, please check out How to Make More Money on Amazon with Great Customer Service Skills – and leave me a review if you found it helpful!
Thanks guys! I hope you like my books!