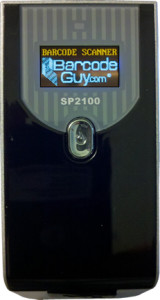 Recently, I got to field test the BarcodeGuy UnionNet SP2100 Laser/Bluetooth Barcode Scanner developed by BarcodeGuy.com to see how it measured against my Socket Mobile 7Ci CX2870-1409 Bluetooth Scanner
I've used this scanner for a month now, and I have to say – I'm very impressed! The SP2100 has saved me a considerable amount of time and has made selling books online much easier and more enjoyable.
The following is my review of the scanner and what I feel are its biggest benefits for online booksellers who find books to sell online with Bookscouter.
Full disclosure – I was given a demo SP2100 by BarcodeGuy.com to test for this review.
What You Get
BarcodeGuy.com offers barcode scanners for iPad, iPhone, and iPods, as well as Android, Windows, Mac, and Blackberry tablets, phones, and PCs. I field tested the SP2100 for Android devices.
My SP2100 Laser Barcode Scanner package came with the SP2100 scanner, an AC wall charger, a portable charger that can be plugged into your car's cigarette lighter, a User's Guide (on resource CD), and a lanyard to tether the scanner to your belt or jacket.
Setting Up the SP2100 and Establishing a Bluetooth Connection
Before using the SP2100, you need to give it a charge with the AC wall charger. Mine only needed 2 hours to get a full charge.
Now you can link the SP2100 to whatever device you want to pair it with. I linked my scanner with my Samsung Galaxy 4 Tablet in less than two minutes. (You should refer to the instructions provided in the User's Guide in the CD to make sure your scanner has the proper settings when you connect it to your tablet or phone.)
Once you pair your SP2100 with your tablet or phone, they should connect when you turn them on. If you run into any problems, go to "Settings" on your device, click on "Bluetooth," and press SP2100. It should link up instantly.
How the SP2100 Saves You Time and Effort When Finding Books to Sell Online
Now you're ready to use the SP2100 to look for books to sell for extra money. Just go to Bookscouter.com on your tablet or smart phone, and login to your free online account.
When you find a book you want to check, aim your SP2100 at the book's barcode and press the scanning button to read an ISBN barcode. The ISBN number will appear in Bookscouter's search bar so Bookscouter  can look up any online bids for the book from buyback companies and show you the best places to sell that book online.
One fantastic feature I discovered when I first used my SP2100 is that when you scan an ISBN barcode with this scanner, Bookscouter automatically looks up the ISBN number and brings up bids from buyback companies instantly. This lets me see how much a book is worth often less than a second after I scan it.
By contrast, when I use my Socket Mobile Bluetooth Scanner, I need to wait for the ISBN to appear, press the "Scan" button on the Bookscouter search bar, and wait for the online bids to appear. It's a slower (compared to the SP2100) and less efficient process since I need to press multiple buttons on my scanner and tablet.
By streamlining the entire process of comparing buyback bids to pressing one button on your barcode scanner, the SP2100 saves you a considerable amount of time and effort when you're looking for books to sell online.
How much time can the SP2100 save? In the one month I've used the SP2100, I've shaved 20 minutes off every visit to a thrift shop – and since I visit 4-6 thrift shops a day, I can now shorten my workday by up to 2 hours, increasing my hourly wage.
Beyond that, I've discovered I can find more books in a shorter span of time thanks to the SP2100's greater efficiency – which makes it easier to sell more books for more cash.
Other Benefits of a SP2100 Barcode Scanner
The SP2100 Laser Barcode Scanner saves me time in two other ways.
First, the SP2100 comes with a laser scanner. Other barcode scanners come with an image scanner which, while good, doesn't always read all the barcodes you aim it at.
The SP2100's laser, by contrast, has a very fine edge that can scan the tips of most ISBN barcodes even when the majority of the barcode is covered by a price sticker. This saves me the time and hassle of having to enter lots of ISBNs by hand.
Second, I want to pay a special compliment to the SP2100's long battery life.
Since I charged this barcode scanner a month ago, I've had it on for over 40 hours, and still haven't had to recharge it.
Granted this is a new scanner so I don't know if the rechargeable battery (1450mAh Lithium Polymer according to the website) will weaken over time – still for a 2 hour charge, 40+ hours of battery life is pretty impressive!
Drawbacks of a SP2100 Barcode Scanner
Right now, the only reason I can think of that would keep people from immediately snapping up the SP2100 Barcode Laser Scanner is its price.
At $349 per scanner package (which includes charger, lanyard, and portable charger), the SP2100 is more expensive than the Socket Mobile Bluetooth Barcode Scanner, which usually costs $200 or less.
And yet, when you consider all the benefits offered by the SP2100 Barcode Scanner, the higher price is justifiable. Frankly, the amount of time you save using this scanner is worth well over $349.
Final Assessment
My advice? If you're serious about making extra money selling books online and can spend two or three days a week searching through thrift stores, buy the SP2100. Within a couple weeks – a month at the most – it will have paid for itself and you'll continue to make more extra cash selling books than you would otherwise.
On the other hand, if you're unsure about making money by selling books for cash, stick to using your phone or tablet. If and when you find this kind of work profitable and fun – and you want to make it easier and faster – invest in a SP2100. You'll be glad you did.
I hope you enjoyed this review and found a product that can help you make more extra cash selling books online. If you'd like to ask me any more questions, feel free to contact me at SellBooksFastOnline@gmail.com.
And as always, don't forget to subscribe!