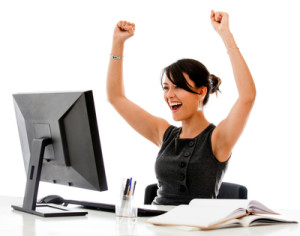 These days, thanks to book buyback comparison sites like Bookscouter, more and more book buyback companies are competing for your business.
So it should come as no surprise that many of these buyback companies offer special incentives for you to sell them your books – including bonuses and entries in contests that can earn you cash prizes and/or cool giveaways like gift cards, iPads, and tablets.
As someone who's taken advantage of these offers, I encourage you to keep your eyes open for such opportunities – especially when you have a lot of books to sell online. You can get more money for your books (particularly if you have over $200 of books to sell and the company is offering a 10-20% bonus) and it's always fun to win a contest.
How do you get these cash bonuses and enter these contests? Most of the time, it's a simple matter of requesting e-mail alerts for special offers from these book buyback companies when you create a free online account with them.
Each company will then email you special bonus codes that you can enter when creating a buyback order. Creating a buyback order with these codes also usually enters you in the company's contest, giving you multiple chances to earn extra money.
Quick tip: These special bonuses do not show up on Bookscouter when you look up buyback bids online for your books, so you'll want to keep that in mind when you choose a buyback company to sell your books to.
Here are three book buyback companies I've regularly received cash bonuses from.
Cash 4 Books
Cash 4 Books is one of my favorite book buyback companies to sell to since they offer a new bonus and/or contest practically every month. These bonus codes are often good for the entire month (although some are valid for only a few days) so you'll want to keep your eyes open when one shows up.
What kind of bonuses and/or prizes can you expect from Cash 4 Books? In the past few months, I've received offers for 10%-15% cash bonuses on my buyback orders, entries for $300 gift cards, and chances to double my buyback cash order.
(Full disclosure: I've never won one of Cash 4 Books' contests – although I have enjoyed frequent cash bonuses from them).
To get these Cash 4 Books bonus codes, all you need to do is send Cash 4 Books your email address. Just visit the Cash 4 Books website, enter your email address at the bottom of the main page where it says "Sign up for special offers," and click "Subscribe."
Now every time Cash 4 Books offers a bonus or contest, they'll send you an email with a special bonus code in it. Enter this bonus code when you create your buyback order and you'll increase your money and be automatically entered into one of their contests.
Tip 1: Before selling your books to Cash 4 Books, go into your email account and do a search for "Cash 4 Books" to see if you received any emails with bonus codes in them in the last few days or weeks. If the code is still valid, you can use it in your order.
Tip 2: These bonus codes can usually only be used once – so use them with a large order if you think you'll be sending Cash 4 Books multiple orders in the same month. There's also a limit on some of these bonuses (normally $50) so be sure to read the bonus code terms at the end of your emails.
Tip 3: Some of these special offers may require you to sell more books than usual (Cash 4 Books normally requires you to sell them only $5 worth of books per order, but you may need to send them bigger orders to get certain bonuses).
As with any book buyback company, you'll want to make sure the books you send Cash 4 Books match their book condition requirements.
Valore Books
Valore Books cash bonus codes are typically best used by people who have a lot of books to sell and/or books that receive high buyback bids as you usually need to have high buyback orders (often about $100) to receive these bonuses.
This may actually work for students who sell back their textbooks, so be sure to keep Valore in mind when you're looking through Bookscouter for any good buyback bids.
The bonuses can range from an additional $5 up to $100 bonus per order and you can receive the codes through emails you sign up to receive from the Valore Books website.
In addition to bonus codes, I've received emails offering to enter me in drawings for $1000 bonuses if I ship my buyback orders within 5 days (something I normally do anyway) as well as survey contests asking me to rate my experience with Valore Books (with an entry into a prize for a Visa Giftcard).
Students selling their textbooks to Valore Books may also be interested in contests asking them to review any of the books they sold to Valore. Such contests also come with an entry into a drawing for a Visa Giftcard.
(Full disclosure: I've never won one of Valore's contests, although I have enjoyed some of their cash bonus codes).
If you're interested in receiving cash bonus codes and/or contest offers from Valore, sign up to receive their emails when you create a free online account with them, and do a search for "Valore Books" in your email when you want to sell books to them to see if you can get a bonus code.
TextbookRush
One thing I like about TextbookRush's bonuses is that you don't need to enter any bonus codes – if they offer a bonus, it will be stated on their website and will be automatically added to your order if you fulfill their requirements.
In the past, most of the bonuses I've received from TextbookRush had to do with the quantity of the books I sent them (for instance, if I sent them more than 3 books, I'd receive an automatic $5 bonus on my order).
Unfortunately, I haven't seen many such bonuses offered by TextbookRush lately – but keep your eyes open when you visit their website if this changes.
If you sign up to receive emails from TextbookRush, you may receive offers to complete a survey on your experience with them for an entry into a drawing (often for an iPad).
Final Tips
Once again, please let me reiterate that the books you sell to these companies (or any buyback company) should fulfill each company's book condition requirements. It doesn't do any good to use a bonus code and then send in a badly damaged book – you won't receive any money for it.
Likewise, once you've created a book buyback order, send the books out ASAP! Most buyback companies give you a week to send your books to them, but if you want to get your money fast, you need to send your books out fast – in two days if possible. (And as you've seen with Valore Books, some buyback companies even offer greater incentives to send your books as quick as possible).
Hope these tips help you make more money from your buyback offers! As always, if you have any more questions, feel free to contact me at sellbooksfastonline@gmail.com.
And if you'd like to learn more about selling books online to make extra money, please subscribe to my blog for constant updates!