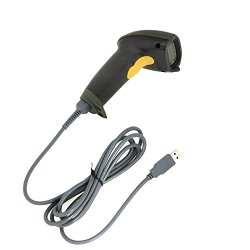 I've got a lot of books in my house (as you can probably guess). And when my book collection gets too big, I have to get rid of some of them.
But for me, this isn't a chore – it's another chance for me to make some extra money fast by selling used books for cash!
All I need to do is access my free Bookscouter account and compare the prices of my books with my Wired Handheld USB CCD Barcode Scanner Reader.
The Wired Handheld USB CCD Barcode Scanner Reader
Those of you who read How to Make More Money Selling Books Online with the Socket Mobile Bluetooth Cordless Hand Scanner know I recommend buying the Bluetooth Cordless Hand Scanner if you go to a lot of thrift stores looking for books to re-sell online.
This wireless scanner is an excellent way to quickly scan barcodes and look up resale book prices on your tablet or phone – allowing you to search more thrift stores in less time (and make more extra money selling books). I've personally seen my extra income go up to over $1000 a month since I started using this scanner.
Unfortunately a Bluetooth Cordless Hand Scanner can be an expensive investment (most sell for over $200), which is why I'm happy to recommend a less pricey scanner that can also help you sell books at home for cash.
The Wired Handheld USB CCD Barcode Scanner Reader is an inexpensive scanner (most sell for under $30) with a USB cord that plugs into the USB port of your laptop or computer.
On the downside, this scanner doesn't connect wirelessly to your phone or tablet like the Bluetooth Cordless Hand Scanner, making it impractical to take to thrift stores (it's also twice the size of the sleeker Bluetooth Cordless Hand Scanner).
On the plus side, however, the Barcode Scanner Reader can read barcodes incredibly fast and enters them into your computer instantly; making it a huge time saver when you sell books for cash and home and need to compare prices with Bookscouter.
Using the Wired Handheld USB CCD Barcode Scanner Reader with Bookscouter
Here's how I use my Barcode Scanner Reader with Bookscouter to make extra money at home:
1. Place all the books you want to look up in a stack on your desk next to your computer
2. Plug the Barcode Scanner Reader's USB cord into your computer or laptop's USB port.
3. Go to Bookscouter.com and enter your free Bookscouter account.
4. Open a blank Microsoft Word document on your computer. Type in the names of buyback websites you want to sell your books to (for instance, I sell a lot of books to Textbooks.com, Powells, Sell Back Your Book, Cash4Books, Valore, and Chegg, so I make sure to list these companies). Write each name on a separate line in the document, leaving several spaces between each name.
5. Now click Bookscouter's search bar and start scanning the barcodes on your books with your Barcode Scanner Reader.
6. Bookscouter will automatically look up all the buyback price quotes from the websites in its database, allowing you to compare prices for your books and select the best company to sell your books to.
7. Once you find the best place to sell your book online, scan the book's ISBN number again – this time on your Microsoft Word document under the name of the buyback website (i.e Textbooks.com, Sell Back Your Book etc.) that you want to sell the book to.
8. Place the books you want to sell in different piles (each pile for a different buyback website).
9. Once you've finished scanning all of your books, you should have several lists of ISBN numbers on your Microsoft Word document, each list under a different buyback website name.
10. Now it's a simple matter to just visit each of those buyback websites; copy and paste your list of ISBNs into their search bars; and sell the books in bulk to the website.
11. Finally, print your shipping label and free packing slip for each buyback order and place them on the pile of books you want to sell (be careful to put the right labels with the right orders!). Pack those books, ship them, and wait to be paid!
Since I started using the Barcode Scanner Reader, I've been able to scan dozens of books in minutes, allowing me to easily sell hundreds of books every month. For the low price, you really can't ask for more!
I also want to add that I've been using the same Barcode Scanner Reader for the last six years, which says a lot for its durability.
I hope this product review shows you how to use a Barcode Scanner Reader to sell books online for profit. As always, please remember to subscribe to my blog to receive more tips on selling books online, and feel free to comment!