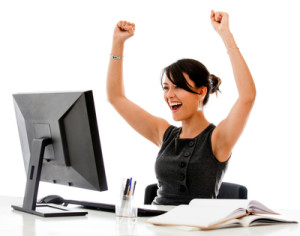 In my previous posts, I introduced you to gold dust books, or books you can easily find and sell by sending them to book buyback companies – companies that will immediately buy your books for an offered price.
The problem most people face at this point is figuring out which book buyback company will offer the best price for their gold dust books.
Fortunately, there's a terrific free online resource that will solve this problem.
It's called Bookscouter.com.

What is Bookscouter.com?
Founded in 2007 by Internet entrepreneur Brandon Checketts, Bookscouter.com is a website that allows you to look up books and see the price quotes different book buyback companies are offering for them.
Unlike a book buyback company website, you don't sell books to Bookscouter – instead you compare price quotes from over forty different book buyback companies and then choose which company you want to sell your books to.
For a book scout, this offers a great advantage since you'll be able to determine which book buyback companies offer the best prices for your book, allowing you to make the most money off of your gold dust books.
How to Use Bookscouter.com
Using Bookscouter.com is easy. Just go to the website's homepage and type in the ISBN number of a book. Click Search for the Best Prices and the website will bring up a list of price quotes offered by book buyback companies for that book.
To speed up your search, I highly recommend buying an USB CCD Barcode Scanner. This is a barcode scanner with a USB cord that plugs into your laptop or computer, reads the ISBN number from the book's barcode, and enters it onto Bookscouter's search bar. It's a great device that's saved me a lot of time since I started selling books online.
Improve Your Search with a Free Bookscouter Account
To get the most out of Bookscouter.com, you'll want to sign up for a free Bookscouter account. With this account, you'll be able to see price quotes from all of the book buyback companies on Bookscouter. (Without an account, you'll only see price quotes from Bookscouter's top eighteen "Preferred Vendors").
Having a free Bookscouter account also means you can see what your book is selling for on Amazon.com. That way, if you find you can list your book on Amazon for a better price than the price quotes you receive from book buyback companies, you'll know not to send it to a buyback company by mistake.
To sign up for a free Bookscouter account:
1.    Go to Bookscouter.com
2.    Click on Register on the top right corner of the homepage
3.    Enter your email address and create a password
4.    Click Sign Up
Once you create your account, you can login at any time and be directed to the Bookscouter.com User Dashboard. This page shows you some of Bookscouter's other services and allows you to manage your account.
One useful feature on the Dashboard is the Vendor Selection option. This lets you limit your price comparison search to only the buyback companies you want to sell to. This makes your price comparison searches faster since Bookscouter won't have to search for prices from all forty-one buyback companies.
To limit your price comparison search:
1.    Go to Bookscouter.com
2.    Login to your account
3.    Click on Vendor Selection.
4.    Check or uncheck any of the boxes next to the book buyback companies listed to ensure they do or do not show up on your searches.
5.    Click Save Selection when you're done.
Take Bookscouter on the Go with the Bookscouter App
Bookscouter also offers a free Bookscouter App that can be downloaded onto an Android or iPhone, and a Mobile Bookscouter Application that can be accessed through the Internet Browser on your phone. This allows you to use Bookscouter to scan for prices with your cell phone at thrift stores and garage sales.
If you'd like to try out the app, you can find and download it by visiting the Android Marketplace (for Android phones) or App Store (for iPhones and iPads) and typing "Bookscouter" in the search bar.
Read Reviews of Book Buyback Companies on Bookscouter
One common concern people have when they send books to a book buyback company is wondering whether or not the company will pay for their books.
As with any business, while there are many good and reliable book buyback companies out there, occasionally a seller will find a company that delays payment or even refuses to pay at all.
To make sure you don't encounter these bad companies, I urge you to read the reviews other sellers have left about their experiences with book buyback companies.
To read these reviews, go to Bookscouter.com and click on the Vendors link located on the top tool bar. This will take you to the Vendors Feedback page where you can click on the View Info and Feedback link located to each book buyback company listing and read what other sellers have to say about the company.
Final Thoughts on Bookscouter
Overall, I think Bookscouter.com provides one of the easiest ways to find the best prices for your gold dust books.
That said, although Bookscouter shows you the price quotes offered by book buyback companies, you still need to study each book buyback company's policies to make sure they will accept your copy of the book before you send them any books.
Remember, some book buyback companies will accept books with minimal underlining or highlighting while other companies will only pay for books in near-perfect condition. Thus, while you might receive several great price quotes for your book on Bookscouter, you may only be able to sell your book to some of those buyback companies!
In the future, I'll provide posts that discuss how the condition of your books affects the type of book buyback companies you can sell them to. I'll also share my personal experiences with book buyback companies and recommend some of the most reliable vendors.
I urge you to subscribe to my blog so you'll be able to get this information and avoid accidentally sending a valuable book to a buyback company that will not pay for it.
For now, I highly recommend you visit Bookscouter.com and try out its free services for yourself. Sign up for a free Bookscouter account, enter the ISBN numbers of some books you'd like to sell, and see if you have some gold dust books in your house right now!