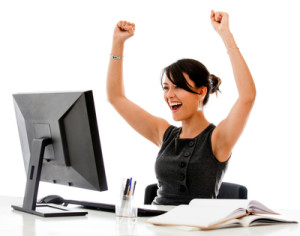 Recently, I encountered a problem everyone who sells books online dreads. My payment for some of my buyback orders wasn't sent to me.
This is something you'll encounter every now and then if you sell books to buyback companies on a regular basis. While the companies you find on Bookscouter are usually reputable, even these companies encounter occasional glitches that delay your payment.
This is why it's so important you keep good records of all of your buyback orders (something I cover in How to Record Your Sales When Selling Books Online) and keep track of which of your orders were paid and which are still unpaid.
To make sure you get paid for all of your books, please follow the following tips:
Learn How Buyback Companies Pay Before You Sell to Them
Most of the buyback companies you'll find on Bookscouter are good businesses that pay quickly and efficiently.
That said, different buyback companies pay in different ways and on different time tables, and you should always make sure you know each company's payment policies before you sell them any books.
Most buyback companies like Textbooks.com, Valore, Chegg, Cash4Books, and Sell Back Your Book pay via PayPal and deposit your money within 1-2 weeks into your PayPal account. (If you don't have a PayPal account and/or don't want to open one, most companies will mail your money via check – but this can take a month on average).
A few companies like Sell Back Books offer to deposit money directly into your bank account (which requires that you share your account numbers with them). Sell Back Books also offers the mailed check option.
And still other buyback programs, like Amazon.com's Trade-In Program, pay in trade credit (not cash) and deposit your payment in your personal online trade credit account. While most people prefer to be paid in cash, trade credit does come with advantages that I cover in Should You Sell Your Books for Amazon Credit?
Make sure to review each buyback company's website to learn their personal policies on payment. Many of these companies also have policies on the type of books they will buy that may affect which companies you can sell to. I cover many of these issues in my article 8 Great Book Buyback Companies To Sell Books To.
Bookscouter also offers a five-star rating system and a place where sellers can leave reviews of their experiences with different buyback companies. You can find these reviews by going to Bookscouter, clicking the "Vendors" link, and clicking on any buyback company you'd like to research. Read these reviews before selling your books to a new company – they might alert you to any unexpected polices regarding payment.
Email Buyback Companies That Haven't Paid You
Okay, but what happens if you do all your research and a buyback company still doesn't pay you?
First, double check your Buyback Order Records to see how much time has passed. If it's been two weeks since you sent your order to this company, wait a few more days – sometimes a company can experience a slight delay as it processes your order.
If it's been over a month and that company promises payment in two weeks, however, you need to contact the company. Go to the company's website, find their email address under the "Contact Us" link and send them a message informing them of the situation.
Make sure to inform the company of when you sent your buyback order, the buyback order number, and the total price quote the company gave for your books. (You should have this information in your records – your online account on the buyback company's website should have the information as well).
Politely inform the company of how long it's been since you sent your order and ask them when you can expect to receive your payment.
Here's a sample email that I use for these situations – feel free to modify it for your own use (I've marked the critical areas in bold).
Hello XYZ Books
Last March 21st, I sent a buyback order (Order #123456789) with the quoted price of $35.
It has been over a month since I sent that order, and I have still not received payment.
Could you please let me know when I can expect to be paid?
Thanks!
Usually, this is all it takes for a company to fix the problem – in the situation I described above, both buyback companies (Sell Back Books and CKY Books) responded politely to my emails in less than a day and sent my payments in full immediately.
By the way, if the company resolved your issues quickly and politely, please leave some positive feedback for them on Bookscouter. Just click the "Vendors" link on the top of the website, find the company, and click on "Leave Feedback." (Both CKY and Sell Back Books got good reviews from me).
If The Company Refuses to Pay
Sometimes, a buyback company may refuse to pay for some or all of your books – claiming the books did not meet their criteria for books in good condition.
This doesn't mean the buyback company is trying to cheat you – if you sent them a lot of books without checking them closely, it's possible some were water damaged or had excessive markings inside, making them impossible for the company to resell. In these cases, you just need to be more careful about the books you sell.
In other situations, however, a buyback company will flat-out refuse to pay you with no explanation – and may even fail to respond to your emails at all.
Sadly, this happened to me with a new buyback company I tried to sell to – and I wound up losing several books I could have sold to other buyback companies.
Unfortunately in these cases, it's virtually impossible for you to get paid – which is why you need to be careful about selling to new buyback companies that don't have a proven track record of paying quickly for their books.
If this happens, you should leave a review on Bookscouter informing others of your bad experience – this will warn others against doing business with that company and can get Bookscouter to remove that company from their website if enough people give them low ratings.
Fortunately, such experiences are rare – after over six years in the business, I can honestly say that I've only encountered two companies like this. As long as you research good buyback companies, keep good records of your buyback orders, and communicate with your buyback companies, you'll easily generate a steady stream of reliable income from your online book sales.
Want to receive more tips and tricks for how to sell books online for extra money? Subscribe to my blog!
Do you have a question or suggestion for a future blog article? Email me at sellbooksfastonline@gmail.com.