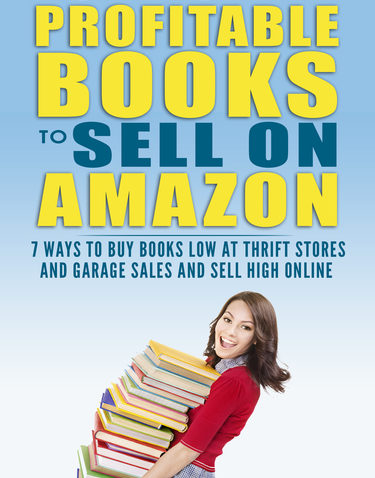 It's a question I've been asked constantly since I started this blog:
"Where do you find good books to sell online?"
Most of you have heard stories of people with valuable books hiding in their attics. Many of you may have also heard how these books sometimes wind up in garage sales just waiting for someone to snatch them all up for a quarter and cash them in for big bucks.
But this still begs the question – how do online bookdealers find these profitable books every day and earn a regular income from them?
It's a topic I've touched on in a few articles, but never explored in any real depth.
Until now.
I'm thrilled to announce that the fourth entry in my Sell Books Fast Online eBook series will finally reveal step-by-step not only how you can find books to sell online, but also where the most valuable books can be found.
It's a short, information-rich read titled, How to Find Profitable Books to Sell on Amazon.
What This Book Will Teach You About Online Bookdealing
If you've been reading the other books in my eBook series, you'll know that I focus on a different aspect of online bookselling in each one – from pricing your books for profit, to promoting your books to online buyers, to creating good customer relationships.
How to Find Profitable Books to Sell on Amazon continues this trend by showing you how to find and build a lucrative inventory of books you can purchase cheaply and sell for big profits on Amazon.
For only $2.99, you'll learn how to:
• Select the book scanning equipment, services, and apps that will help you find profitable books
• Decide at a glance if a book can be resold for a profit or not
• Locate thrift stores, garage sales, estate sales, library fundraisers, and used bookstores where you can find the most lucrative inventory for the lowest prices
• Earn more money and save time by creating "book routes" that let you visit several stores every day.
• Find profitable books your competitors can overlook
• Befriend store employees and volunteers and gain access to even more books
• Turn other online bookdealers from competitors to friends who will share valuable information with you
This is the perfect book for anyone interested in online book dealing who'd like to find more books and boost their earning power. Whether you're a college student building a vacation fund, stay-at-home parent seeking additional income, or someone looking for a gift to give to the book lover in your life (hey, Christmas is right around the corner…), you'll find what you need in this book.
Plus, you'll find that many of the strategies in this book work beautifully with many of the free tips and tricks I offer in this blog – making How to Find Profitable Books to Sell on Amazon the perfect supplement to locating more books to sell through Bookscouter.
I genuinely hope you enjoy and learn valuable strategies and techniques from this book. And if you do, please be sure to leave me a positive review on Amazon and/or email me if you have any more questions. I'm always available to chat with you guys and I'm very eager to know what you think of my eBooks!
Thanks! Happy Holidays!
Bonus Tip! Want to get access to all of my eBooks for the lowest possible price? Pick up a copy of How to Find Profitable Books to Sell on Amazon and then download a copy of How to Sell Used Books on Amazon Box Set to get the first three eBooks in my series for the discounted price of $6.99!
Extra Bonus Tip! Want to know when my new eBooks come out – and when I offer special discounts and promotions? Subscribe to my blog and get advance notices!