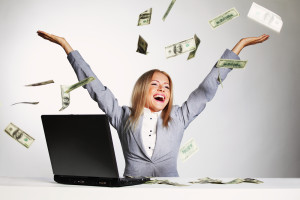 Hey guys! Thanks for sending me all your questions – I really appreciate the feedback!
Recently, I got an email with a question that I'm sure is on a lot of people's minds when they start selling books online for extra money.
"How much money can you make selling used books online?"
It's a fair question – and one that will influence not only your decision to sell books online but how you choose to sell books online as well.
The good news is this – if you adopt some good strategies for selling books online (like the ones I teach in this blog) and keep using them, the money you make in an hour will not only become substantial but also keep growing as you continue selling books online.
For instance, my part time job selling books online currently allows me to make $20 an hour. This net hourly wage is calculated by taking into account the time I spend looking for books to sell, listing books on Amazon, selling books to buyback companies, and packing books for shipping.
However, before you start expecting to make this money right away, there's something you should know.
This wage includes the money I make selling books to buyback companies and Amazon.com. In other words, while you can make money by only selling books to buyback companies, if you want a higher hourly wage, you need to sell books on Amazon.com and to buyback companies.
Let's take a look at how different strategies for selling books online can affect how much money you make per hour.
Selling Books to Buyback Companies
If you've been reading my blog, you'll know I'm a big advocate for selling books to buyback companies you can find on Bookscouter.com. There are a few reasons for this.
First, it's a lot easier to find books to sell for extra cash to buyback companies. These books include many subjects – popular fiction, textbooks, science, history etc. – and can be found anywhere from thrift shops to library bookstores to garage sales.
And while the buyback bids offered for these books might not seem high (most sell anywhere from $2 -$10), if you buy the books cheaply and pack several of them into a single box, you can still make a decent profit from each buyback order (I make a net profit that can range from $15-$50 for each buyback package I send).
Second, you can sell books immediately to buyback companies. There's no need to wait for a customer to find your book in your online bookstore and place an order – these companies want the books now and will pay quickly (usually about 2 weeks after you send the books to them).
Because this turnaround is so fast, you don't have to worry about all your money being tied up in inventory – you can liquidate and reinvest your books on a regular basis and generate a steady stream of revenue.
And finally, by using a free book scouting service like Bookscouter.com to find books to sell online, you can keep your overhead costs even lower since you don't have to pay for a book scouting service.
Along with these positives, however, come a few downsides.
For one thing, you'll need to find a lot of books to send to these buyback companies if you expect to make a decent profit. This can be time consuming (which will reduce your hourly wage) which is why I highly recommend investing in a good barcode scanner that will make finding profitable books much faster and easier.
Another snag I've found is that some thrift shops and library bookstores are located in Internet "dead zones" which makes it harder for me to use a free online service like Bookscouter.com. This also eats up time, so it can be handy to use a PDA and scanner which find books using a downloaded database that doesn't need Internet access.
And while you will find books that buyback companies will bid high prices for (I regularly sell single books for $50-$80), the vast majority of the books will still sell for only $2-$10, which can limit your profits.
So how does this affect your hourly wage?
Well, when I first started selling books to only buyback companies, I could make $8 to $10 an hour selling books online. Not bad if you're looking for a way to raise money for a vacation or Christmas, but not that great either.
Over time, I invested in a barcode scanner and learned to spot the books buyback companies would want while bypassing the ones they didn't. This let me find and sell more books in less time, letting me make about $12 to $15 an hour. Better – but I was still spending more time for what I felt should be a higher return.
To really make more money, I needed to merge other internet bookselling techniques with the Bookscouter book selling technique.
Which brings me to –
Selling Books on Amazon
This is the strategy most online booksellers think of when they sell books online. And it comes with some benefits – some of which I cover in my article, Should You Sell Textbooks on Amazon or to a Book Buyback Company to Make Money?
To recap: When you sell books on Amazon.com, you can list your book for any price you want. If you want to sell your book for $300, you can list it for that price. You don't have to let an online buyback company's bid dictate what you sell your book for.
The problem is that you need to wait for someone to purchase your books for that price to see any return on your investment. This isn't a big deal for someone with a large amount of inventory who can sell books every day – but it is a problem if you're just starting out and only have a couple dozen books listed on Amazon.
It could take months or even years for some of those books to sell – and while the time and effort to pack a single book isn't that much, you'll need to keep building your inventory if you expect to make a decent hourly wage.
Another issue is that Amazon.com will take out its own commissions and fees before you get paid – and you may have to invest your own money for postage and/or insurance. This isn't such a bad deal if the book is an expensive one – but if you only sell cheap books, a lot of your profit will be sucked out.
That's not to say people can't earn a good hourly wage by only selling on Amazon.com – many established sellers with huge inventories claim they earn over $30-$40 an hour. But unless you can quickly build a large inventory of profitable books – and keep replenishing them as they sell – you won't make a lot of money fast this way.
Having said that — I have learned and developed several strategies over the years that have allowed me to sell my books faster and for higher prices on Amazon. If you'd like to take advantage of these special tactics, please feel free to check out my Sell Books Fast Online eBook series.
How to Make More Money an Hour Selling Books Online
So how do I use Amazon.com to make more money selling books online?
Simple – I list books that go for very high profits on Amazon.com. Then I sell the rest to buyback companies using Bookscouter to find the best places to sell online.
It's a basic technique that's worked out very well for me. The money I make immediately from buyback sales more than covers the cost of any books I list on Amazon.com.
Then, over time, the books I list on Amazon.com start selling. Sometimes it takes weeks, months, or even years – but since I've already recouped my initial investment on those books, I don't need to worry about not getting my money back.
And once I start generating regular Amazon.com sales, my hourly wage increases – and will continue growing since my income comes from two streams – buyback companies and regular Amazon.com sales.
How Should You Make Money Selling Books Online?
So should you sell books on both Amazon.com and to buyback companies like I do?
Well, that's up to you.
If you just want to raise money for a vacation, project, or gift, then maybe you don't have to sell on Amazon. Just invest a few weeks selling books to buyback companies (use a barcode scanner if you want to make the work faster and easier) and you'll earn the extra money you need.
On the other hand, if you want to generate a source of regular income and earn a decent hourly wage, then you'll want to sell to both buyback companies and Amazon.com. It doesn't take long to list a book on Amazon, and the time you invest will pay off once your inventory grows and you make more money selling used books online.
Want to receive more tips and tricks for how to sell books online for extra money? Subscribe to my blog!
Do you have a question or suggestion for a future blog article? Email me at sellbooksfastonline@gmail.com.